With the demand for housing ever-growing, we have been sharing our involvement with new projects with the London News Online. 
Offering our services as part of these amazing initiatives has allowed us to develop a range of affordable and innovative solutions within the carbon zero and supported living approaches. 
With a number of developments on the go – our team has been involved right from the offset providing services such as:
Administration of the D&B contract on behalf of the client.  

Providing client-side QS services including review of reporting on multiple contractors' cost proposals.

Clerk of Works – Our site Inspectors ensure that the works carried out are to the highest standard and meet the client's specifications in all areas. 

Design Approver – Ensuring throughout the design stages that the design team complies with the Employer's Requirements. This will ensure the longevity of the developments as well as the quality.   

CDM Advisor – Ensuring the project meets the needs of the Construction Design and Management principles in all aspects of design and construction.  
Amongst these projects, the local press has run a number of articles noting our involvement and outlining the goals of each project. It's been fantastic to see more awareness of the need for these kinds of developments. We've included some information about each below with a link to the articles if you'd like to find out more.
Supported Living
Nine new flats are set to provide people with learning disabilities the freedom and independence they deserve. In the capital, there is a considerable lack of properties like this that supply individuals with the support and amenities they need to have a good quality of life outside their family homes. 
With the demand for this type of accommodation on the rise, it's crucial the project was underway quickly and smoothly. Involvement from the team at Blakeney Leigh ensured this was possible while remaining parallel with the council's Carbon Neutral Plan.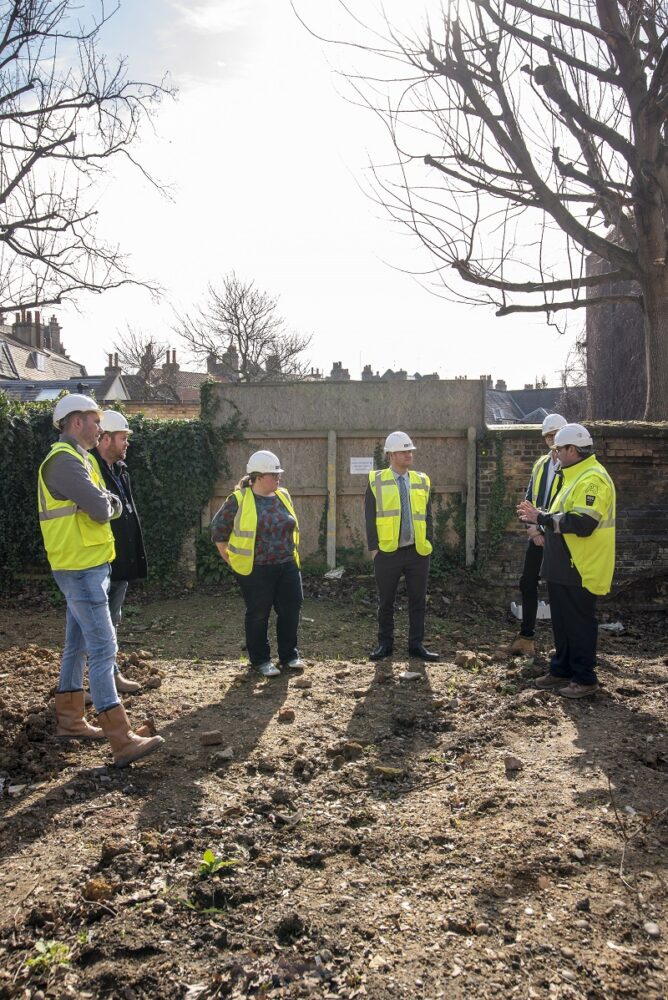 Locality
For many with learning disabilities, change is incredibly difficult. This means that moving out of the city to find more affordable housing is often out of the question. They need somewhere that provides the support they need, in their local area where they feel safe and comfortable. 
Royal Hill is an area in the heart of their local town – close to major amenities and family. Developing these properties with carbon zero in mind also makes them incredibly efficient and many of our new technologies will reduce living costs and other fees covered by the council. 
We're incredibly proud to play a part in this opportunity for local people and look forward to seeing the impact of this project on future developments. 
Carbon Zero Council Homes
Councils around the country have been thinking more about energy efficiency and various environmental factors associated with the growing property demand. The Royal Borough Of Greenwich implemented the first development of its kind in the area to introduce carbon-zero homes. 
We oversaw the project, ensuring the absolute most was done to improve the efficiency and environmental aspects of each material and construction element. With decades of experience behind us, this was an amazing chance to innovate and introduce some unique designs we hope can be carried forward into future projects. 
Some of the highest performing options we implemented were:
A floor system using Cellecta Tetris which is a highly insulated alternative to conventional flooring.

An External wall and roof system using SIPs from Kingspan Tek. 

Velfac triple glazed windows combined with Solar technology

Mechanical Ventilation with Heat Recovery (MVHR)

Air Source Heat Pumps 
All of these together were used to create a net-zero development and reduce ever-increasing energy bills. 
The first tenants have now moved in and were even met with a visit from the Cabinet Member for housing!
We aim that our business will too be carbon neutral by 2030.
We take all reasonable steps to manage our operations so as to minimise our environmental impact and promote good environmental practice. We acknowledge our responsibility to the natural environment and strive to minimise any negative impact from our business activities and projects we choose to undertake. 
Affordable Housing
As part of the Mayor's £38million initiative, our team have been providing services for a number of new developments across the borough. The idea is to offer these new properties to those on the council housing waiting lists and offer more eco-conscious accommodation for individuals in London. 
Over 350 builds are in progress and it's a real pleasure to play a role in providing homes to those who need them. We will again be implementing our innovative technologies and ensuring each stage of the project reflects the carbon-neutral plan laid out by the Royal Borough. 
This funding is crucial for reducing the number of struggling families and those moving between different accommodations while on the waiting list. It's the boost the area needs and will also play a huge role in improving the sustainability of new developments across London. 
With all these projects either already completed or in progress, we hope they will all provide positive data and understanding of the need for more like them. We believe they are something that more areas across the country need in order to keep up with growing housing demands and the need for sustainability in the industry. 
Keep an eye out to see future projects and stay updated on current developments!