In order to find the best computer-aided drafting (CAD) program, you must look at the work you're doing and make a decision based on what suits you best. Revit and AutoCAD are both software from Autodesk produced for designers and engineers. 
Although they can integrate each others' work when needed, they serve different purposes. AutoCAD creates 2D geometrics with 3D modelling capabilities. On the other hand, Revit uses 3D parametric meddling and is used as a building information modelling tool (BIM). 
Both tools are used widely for different purposes within architectural and engineering projects. 
The aim of this guide is to give a comparison and provide more detail on the differences and benefits of the two between two programs such as their features, user experience, usage and support. 
Revit vs AutoCAD Comparison – Costs
Both programs are from Autodesk meaning that their licensing options are fairly similar. They both benefit from Autodesk's policy for students, teachers and educational institutions in providing their software for free for these groups. That being said, Revit is a little bit more costly per subscription unit for those using the program for personal or commercial use. 
A monthly subscription for Revit will cost £366 or £2940 on a yearly based subscription. Autodesk provides stand-alone user licensees, which give access to one user per subscription. 
On the other hand, a yearly AutoCad subscription is likely to cost around £385 for a yearly plan or alternatively £1045 for a 3-year subscription plan. Similar to Revit you can buy this with a stand-alone subscription but not with a network license as was previously offered for the two programs. 
Features and Functions – AutoCAD
To start off this Revit vs AutoCAD comparison, let's first look at the features and functions for AutoCAD. AutoCAD is a greatly useful and expansive tool that incorporates a wide range of features and functions. Some examples of these features include:
3D modelling 
Indeed the primary use for AutoCAD is 2D drafting, the program's update to include 3D modelling is perfect for those who require both these needs. 
CAD Standards Check
Once you have purchased AutoCAD and have it installed on your device, you can set up CAD standards in order to maintain consistent styles for layers, line types, dimensions as well as texts throughout all your separate projects. 
Section Planes
As part of the 3D modelling features of the program, AutoCAD provides you with a selection of ways to analyse your object and look at different cross-sections and layers. This is an extremely useful feature as it allows you to gain new perspectives for your designs and make sure they are correct both inside and out in accordance with your standards. 
Visual Style
Another benefit of AutoCAD's features is that you can change the setting of your 3D designs to give them different lighting and shading. Additionally, edges can help show you what your object will look like in various scenarios similar to how they would in reality. 
Measurements 
You can also easily see the measurements of components just by hovering your mouse over them whilst working on connections or other nearby spots. This is a great feature that will help increase your time efficiency on different designs. 
Isolation and Selection of Objects
Another useful feature for this program is that each layer of a design can be created on separate layers. If you focus on a whole picture you can easily get frustrated with the separation. However, focusing on a whole large picture in this way can be useful in providing a more detailed focus without having to work with the whole design at once. 
Revision Clouds
From the 2020 version of the AutoCAD program, you can now draw circles around revisions to highlight areas you have changed between different versions. This is great as it gives you a simple way to monitor how your design has evolved without spending unnecessary amounts of time figuring out the differences between two almost identical drafts.
Mobile Features
The AutoCAD mobile app is a great way to access your AutoCAD files on the go through your smartphone. This feature is fantastic for anybody who requires need to refer to designs whilst away from home. 
Features and Functions- Revit
The features and functionality of Revit are centred around its prime usage as a building information modelling software. There are many features of Revit that are hugely beneficial. Revit is a BIM meaning it can help manage information on a construction project throughout its life cycle. Through this process, a coordinated digital description of every aspect of the built asset can be developed, using appropriate technologies. A few features of Revit as a BIM include: 
Construction Coordination
Revit, as we have already covered, is a BIM. One feature of the program that is beneficial is its ability to share information amongst all the people involved in building a structure or series of structures. You can upload models from any point of the process into a shared drive. It allows for everybody involved to remain anonymous whilst keeping in the loop with the ongoing progression. 
Insight Integration 
The building information model also makes it extremely valuable in that you can alter structures that are already set up. The insight integration allows you to view data on how the building performs on general efficiency as well as any considerations on the environment. You can also adjust measurements to your own preferences. 
Global Parameters
Revit is also unique in how you can set up project parameters that follow throughout the process. Furthermore, they work with radial diameter dimensions as well as equality constraints. 
Generative Design
For further savings in time, Revit will automatically create your design features based on your own pre-selected parameters. This will also help provide you with peace of mind by not having to spend time making tiny changes repeatedly in order to achieve slight variations in the pursuit of finding the one design you want. 
Cloud Rendering
This is a great feature in that by using Revit you have a lot more computing power at your disposal. Cloud rendering allows you to complete photo-realistic processing of 3D models with offsite storage. This allows you to keep working without requiring additional hardware.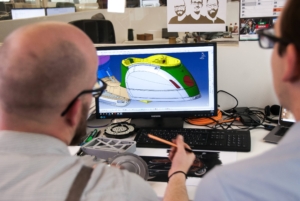 Industry Requirements – PAS9980
Revit as a BIM can help you keep in line with industry standards and requirements. This is especially important with the new PAS 9980 which is due to come into effect next year. 
PAS990 refers to the code of practice of Fire Risk Appraisal and Assessment of External Wall Construction and Cladding of Existing Blocks of Flats. This additional guidance is an update on the previous Article 14 that was published aiming to provide guidance for building owners with non-ACM materials in their internal wall systems including, for example, insulation and cladding. 
PAS9980 aims to provide more specific guidance to bring more consistency to legislation. For example, it provides fire engineers with a standard methodology for assessing fire spread via external wall construction and cladding. Additionally, it also enables recipients of an FRAA to understand the process, as well as the methodology, applied. It also helps to interpret findings. 
There are a few other ways in which industry standards have changed in recent times for BIM. For example, increased importance on the relevance of data. An increased focus on data exchange requirements means Organisations will focus on what information they most need and why, rather than asking project teams to share everything about the project. 
In recent memory, BIM has seen a push for a more open and accessible environment based on industry-agreed standards, with a greater focus on data relevance and quality, both of which can be achieved with the use of Revit.
User Experience
Continuing with this Revit vs AutoCAD Comparison, we should next consider the user experience of both programs. The reputations of both programs are that they can be difficult to learn as a result of the high volume of information, tools and features necessary to navigate their operations. That being said, there is a range of tricks you can implement and places you can receive advice so that the learning curve isn't so bad. 
Revit
Anyone who chooses Revit who come from a computer-aided design perspective need to be aware that you may feel as though you are starting from scratch if you've been using CAD previously. However, in these circumstances, there is some information Revit uses that will be more familiar, although applied slightly differently. 
The great thing about both Revit and AutoCAD is that they both offer free 30-day trials for their software. This is great for new users as during this trial period you will also be provided with official Autodesk tutorials which will help guide you as you get used to the different platforms. 
Autodesk's tutorials are extensive, providing details on every aspect of both programs. This is why it is highly recommended that you make the most of your free trials when you have the time.  
AutoCAD
Those using AutoCAD for the first time may be overwhelmed by the vast number of tools within the program and unintuitive commands. You will need to ensure that you remember how to navigate to a function in addition to what each function is used for. Getting used to these features may take some practice to master. 
The Custom User Interface Editor tool for AutoCAD lets you build your own workspace, which is useful as you can bring forward tools you wish to use whilst moving out the ones you know you'll never need. 
In several forums, AutoCAD teachers often remind users that at the software's core, AutoCAD is as simple as a pen and paper in putting basic shapes together. Knowing this information it may be best practice to master the 2D drafting basics before embarking on more complicated designs. 
Overview 
As part of this Revit vs AutoCAD Comparison it is important to note that both of AutoDesk's programs, AutoCAD and Revit are extremely valuable design tools whether you are a designer or engineer. 
Revit, on one hand, is beneficial for its modelling capabilities in addition to its real-time editing features. Both are great in facilitating users who work alone or who wish to share their ideas as part of a team. The tool also allows you to gain a perspective of how your object will look in reality. 
Those who need a more design-centric program can find huge benefits from using AutoCAD as the 2D base allows you more ways to control the details of your design. 
When choosing between the two programs, you must consider how you are going to use it, so take the time to consider the different features for both before making a final decision. 
More about Blakeney Leigh
We are a highly skilled team of 18 big enough to deliver even the largest of projects, but small enough to build lasting and meaningful relationships with each and every one of our customers. Get in touch with us today!