Applying for approvals for construction or 'planning permission' can be a bit of a tense experience. Any significant property development will require you to do so and it is vital you carry out all the necessary steps before going ahead with the build. 
Unfortunately, there is no guarantee that your approval will be granted. This could halt production and push your timeline further than you originally anticipated. However, there are a few things you can do to ensure the process is as refined as possible from your end.
Generally, the number of permissions required will vary with the size and complexity of the project. Because of this, proper research and organisation are key. Each approval will cover different aspects of the build, including:
Health and safety

Consideration to neighbouring properties

The appearance of the building

Impact on the general environment
This article will cover a few top tips you can use when applying for approvals for construction. The first of which is fairly important to remember and could help you ensure all the correct information is on hand when you need it. 
1. Understanding The Difference
Oftentimes, homeowners, business owners and property developers can become confused by the definitions of planning permission versus building regulation approvals.
Simply put, they are considered under different legislation and so will be required for a range of different projects. Understanding each one will help you stay organised when processing an application and understand the journey along the way. 
Planning Permission
Assessing whether your renovation, extension or larger build complements the local and national surroundings will be carried out through planning permission applications. This allows the councils and government to control the way our towns and cities grow, look and are used. 
This is required when undertaking most types of new development although some may have more specific requirements. Listed buildings and conservation areas for example may have stricter rules and regulations to follow – making it more difficult to carry out. 
Planning permission covers the use of land, the appearance of any new buildings, landscaping and the impact it will have on the environment. Even when extending your own home, consideration should be given to your neighbours and how the structure may overlook their properties. 
With this in mind, it is best practice to not only include drawings of the project but come ready with evidence that demonstrates how your proposal will have a positive impact on the community.
Building Regulations Approval
This is slightly different in the fact that the main focus of these permissions will be on compliance with building regulations. These are a set of codes and practices to ensure structure, fire, thermal performance, security and ventilation. These codes act as minimum levels of compliance. You may need to invest in these as well as the type mentioned above before you can proceed with construction. 
Amongst the list of projects these regulations cover are any alteration work to do with:
Fuse boxes

New plumbing

Window replacement

Roof replacement 

Heating systems

Loft conversions

Cavity insulation

Drainage

New construction
However, this list is not exhaustive. There are plenty of reasons why building regulations are so important and they can be vital for the safety and longevity of the building. 
If the structure is not sound, there may be risks of major issues in the future. So-called 'cowboy builders' can be avoided by applying for approvals for construction. Carrying out professional checks before and during the project will put strong boundaries in place and filter out any issues or misconduct that may have arisen.
2. Take Care With Designs 
Our architecture and design services may be able to help you with this top tip. An appropriately scaled and professional mock-up of your project can make or break your planning permission process. 
This makes it far easier to visualise and will act as evidence when it comes to presenting the dimensions and materials used in the project. Because a large portion of applying for approvals for construction is based around the external appearance – this visualisation is essential.
So, (unless you are already an architect) it is important to work with experts who have a clear understanding of the planning permission requirements. Our variety of services include:
Planning drawings

Building Control Drawings

Design Feasibility Studies

2D and 3D AutoCad
Each one of these specialisms can help you when applying for approvals for construction. With over 30 years of experience across all sectors, we have a proven track record of delivering first-class projects. 
We want to help you see a build through to the end – so falling at the first hurdle is not an option! 
3. Be Ready To Tackle The Applications
It is important to understand that not everything you see on the forms will be relevant to your project. Don't worry, even if an answer is required you can simply put N/A or not applicable into the form. 
The forms tend to be similar across different councils and so it is important to be aware of the key areas they'll ask you about. Non-residential projects may have to cover more of these areas, so be ready to divulge any information that could help prove your case.
Brief Description Of The Project
Keep it simple here. Too much information can make the application far more complicated than it needs to be. As a result, you may actually be hindering your own outcome. 
Something along the lines of 'detached bungalow with side annexe and garage' would suffice for most residential descriptions, for example. Make it clear what your intentions are, without going overboard. You have plenty more opportunities to display drawings and dimensions. 
Waste
Household waste is often a concern when applying for approvals for construction. Without an organised plan of how this will be disposed of – it could be seen to impact the neighbouring properties negatively.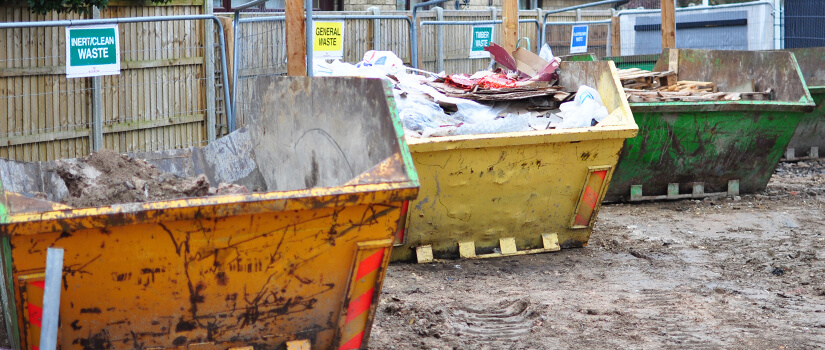 If there is a council recycling scheme, this would be your chance to mention the scheme will be used to dispose of internal waste. This just adds reassurance that fly-tipping and unappealing features won't be an issue after development. 
Materials
This is where you can be a little more specific. Detail of the types of materials being used within the build will give you the best chance of being approved for construction. This could impact your ability to utilise specific materials that suit your aesthetics and, most importantly, budget. 
Depending on the scale of your project and requirements from the council – you may also need to supply samples to be approved individually. While this can seem like a step that takes away the control from your end – offering up enough information and being open to further submissions can help minimise the risk of denial. 
Flora and Fauna
A separate survey may need to be completed on your plot of land before making too many large decisions. If you suspect there may be a protected species of plant encroaching on your site, a survey will indicate this. After the fact, measures will be put in place to conserve these species but bear in mind this could impact your project.
Similarly, being within close proximity to water sources or other sustained habitats may see issues arising with protected animals. It is well worth investigating and ensuring that your findings are submitted when applying for approvals for construction. 
Certificate Of Ownership
This section will cover both the development plot and access to the road. If a portion of the site is owned by third parties, you'll need to declare shared ownership or shared access. 
However, if you are in the process of buying but haven't completed the purchase of land or property – you may be asked to complete a different section of the form. Just be careful here and make sure you read each part carefully. Void applications may not be considered and you could have to submit them again. 
A Few Steps Closer To The Finished Product
Applying for approvals for construction can be the make or break point for new developments and refurbishment projects. It's all about supplying the right information and being as honest as you can. It's not the end of the world if you fall into some pitfalls along the way but working with professionals like our team will help ensure you know which direction to take. 
Hopefully, this article has now put you a few steps closer to achieving the outcome you want and being able to watch the build happen. If you need some more advice or information, get in touch and our team will be happy to help.
More About Blakeney Leigh
Established in 1986, our dedicated team here at Blakeney Leigh has been delivering high-quality building, construction, and property services to our clients for over 30 years. We use only the highest quality in terms of materials and using our knowledge and experience, ensure we meet the very latest industry standards. 
If you're looking for project managers or help with applications and construction designs, contact us today here or call 020 8777 7700. A member of our dedicated team will be more than happy to discuss your individual requirements.